Google releases new interpreter mode to smartphones | TahawulTech.com
Google announced its Assistant's real-time translation feature, interpreter mode, has started rolling out on Assistant-enabled Android and iOS phones worldwide.
In a blog post on their website, Lilian Rincon, Senior Director of Product Management, Google Assistant, explained: "Using your phone, you can have a back and forth conversation with someone speaking a foreign language. To get started, just say 'Hey Google, be my German translator' or 'Hey Google, help me speak Spanish' and you'll see and hear the translated conversation on your phone. After each translation, the Assistant may present Smart Replies, giving you suggestions that let you quickly respond without speaking-which can make your conversations faster and even more seamless."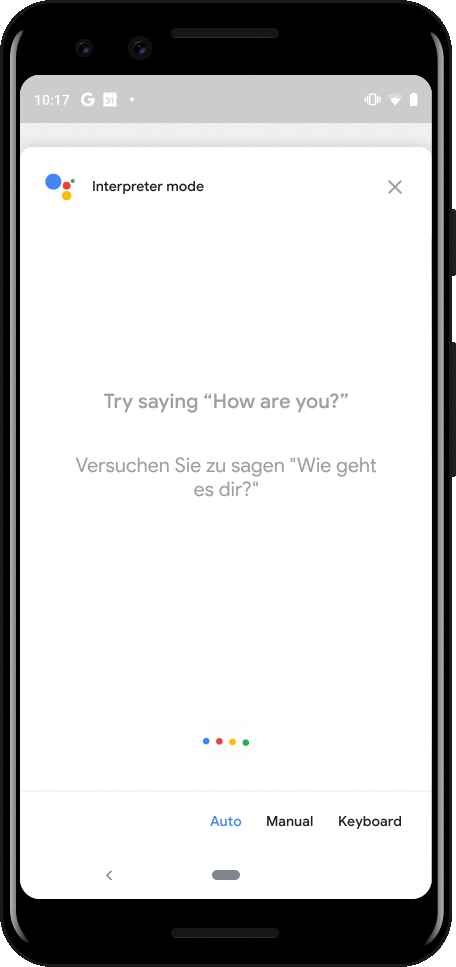 Interpreter mode was first announced back in August during CES 2019, but was only made available on Google Home smart speakers and displays such as the Google Nest Hub.
Google had since been piloting the feature at the concierge and front desks of hotels like Caesars Palace in Las Vegas, Dream Downtown in New York City and Hyatt Regency San Francisco Airport, where guests used it to have free-flowing conversations with hotel staff through the Google Home Hub installed at each venue.
However, the new version will allow Android and iOS phones to translate across 44 languages. Android users will be able to simply access it through their Google Assistant, whilst iOS users will need to download the latest Google Assistant app on the App Store.
Interpreter mode can be used by typing on the phone's keyboard for quiet environments, or manually selecting what language to speak. Following the translation, the feature will also suggest possible responses at the bottom of the screen related to the translation, facilitating further the flow of the conversation.
The system recognises the user's location by default to determine the language and regional variant, however it is also possible to manually choose whichever language and variation necessary. Interpreter mode is available only on Wi-Fi or a stable mobile internet connection for now.
cernemedia.com technology Google releases new interpreter mode to smartphones | TahawulTech.com
Related News
Google Declared Interpreter Mode to Google Assistant in CES 2019 in January this Season. A month after, it had been rolled out to pick devices, such as Google Home speakers, and pick bright speakers, and
Next time you want to have a conversation with someone who speaks a different language, you might be able to do it using just your phone. Google started rolling
Almost a year after Google Assistant first adopted an Interpreter mode for the home, the feature is finally arriving on mobile. That's according to recent reports citing word from Google itself that the mode is
Live voice translation was activated for your phone today via Google's own Google Assistant in Interpreter Mode. This system was first revealed in its current form back in January of 2019, where
Google announced Interpreter Mode earlier this year, rolling it out to Google Home and Assistant-powered Smart Displays some time later. As suggested by the name, Interpreter Mode permits users to communicate back and
Google on Thursday began rolling out its real-time translation feature for Google Assistant across Android and iOS phones. Interpreter mode can help you communicate with others who speak one of 44 languages. You can begin
This site may earn affiliate commissions from the links on this page. Terms of use. Google added a conversation mode to its Translate app way back in 2011, but that requires installing an app.
More News in Technology
Xbox Live free games news is headlined today with a warning that time is running out to download some great Xbox One games for nothing. It has been a big week for Xbox One fans,
It's time for the Sunday giveaway! Like every week, we're giving away a brand new Android phone to one lucky Android Authority reader. A big congratulations to the winner of last week's Google Pixel 4 international
Google Maps users who have an iOS device now have access to a tool that Android users have had for months: the incognito mode. In October, Google began deploying an Android Maps mode allowing users
(Image: DS) According to sales monitoring site VGChartz , the Nintendo Switch has finally outsold the worldwide sales of the Xbox One. Though the numbers are only estimates, the data over
The Nikon D3500 is one of our favorite cameras for beginners, and the one that we tend recommend to everyone who asks us what to buy a college student that is getting into photography.